GoAEYC Executive Committee 2023
Linda Hermes- President
Linda has been doing child care since 1987; leaving a career in Social Work to care for children in her home. She lives in Evanston, IL with her husband, Hal and two children, Kate, who is in graduate school and Nick, who is a sophomore at Columbia College, Chicago. Linda is a Foundations in Family Child Care Trainer, Mentor for Action for Children and is a part of the Illinois Trainers Network through INCCRRA. Linda's professional objective is to strive to create a safe, secure, nurturing place for children and families and to advocate for quality child care programs for all families. Linda feels very privileged to be a member of the GOAEYC Board and hopes to bring more family child care professionals into this strong and vital organization. When there is time to spare, Linda enjoys reading, theater and cross stitching.
You may reach Linda via email here- Contact
Amanda Foege- Vice President
Amanda has held and succeeded in numerous operational roles including Teacher, Lead Teacher, Assistant Director, Center Director, and Regional Manager.  She has managed and led schools of various sizes and models. She is an award winning leader in the early childhood curriculum, community service, diversity & inclusion and is a frequent contributor to the Bright Horizons operations department and training and education department. She also regularly shares her expertise as a certified trainer for Continuing Education Units for the Early Childhood Field and volunteers time with the WINGS organization, Hesed House and SOS Children's Village.
Amanda currently provides leadership to six Center Directors in Illinois, Texas and Boston. She holds a Bachelor degree in Family Consumer Science with an minor in Early Childhood Education. She loves what she does everyday and her passion and drive come through when she is working hands on with children, families and teachers.
You may reach Amanda via email here- contact
Sheila Kerwin- Secretary
Sheila Kerwin has worked in various educational settings. She retired as Chair of the Early Childhood Education Program at Oakton Community College in 2016. She currently writes children's poetry, and recently had her first poem published in Highlights Hello Magazine. She also writes for her blog, and consults in the areas of emotional intelligence, curriculum, and development.
You may reach Sheila via email here- Contact
Penny Zimmerman- Treasurer
Penny Zimmerman is a Regional Manager for Bright Horizons Family Solutions and is responsible for supporting the Administrative Teams for 6 schools in the Northwest suburbs of Illinois. Penny started her early childhood career as a teacher of children 3-5 years of age; she worked for many child care companies, McHenry County College and CEDA Northwest Headstart. Penny has been with Bright Horizons for 21 years. She came to Bright Horizons as center director and has worked with client sponsored and community welcoming centers during her tenure. Penny supports teacher training, recruitment and marketing and provides training and mentoring throughout the Bright Horizons family of centers. She was a NAEYC validator prior to 2006 and offers NAEYC support to centers in Chicago. Penny is a graduate of Purdue University and is active in NAEYC as an advocate for children, families and teachers.
You may reach Penny via email here- Contact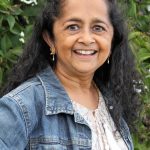 Molly Babu, Membership Chair
Hello, I am Molly Babu. I have been in Early Childhood Education for 28+ years. During these years, I have worked with preschoolers and pre-kindergarten age children. I have also tried my hand on being in management. But, my heart is in the classroom, and that's where I belong.
Now, I'm not only a teacher for children, but also an independent consultant. I have been presenting workshops around the area. I've recently presented at ILASCD (Illinois Association for Supervision and Curriculum Development), Chicago Botanic Garden, and GoAEYC, to name a few.
You may reach Molly via email here- Contact
Bettye Cohns- Equity Committe Chair
Bettye's professional career as an early childhood educator began in 1971 as a work-study student
during her senior year of high school. She is currently the Executive Director of Reba Early Learning Center in Evanston, IL. She holds a Level 3 Director credential, Bachelor's degree in Early Childhood Education Administration, and a Master's degree in Organizational Management with a Specialization in Leadership from Ashford University. She is most proud of recognition from Oakton Community College in 1997 for a Distinguished Alumni Award and a 2000 Kohl McCormick Early Childhood Teaching Award.
Bettye, and her husband of 47 years are parents of two children and nine grandchildren. A participant and facilitator of anti-bias trainings, she continues her journey of collaborating with the community to view systems and policies through an equity lens. Bettye believes that children are confident and thrive when families are productive. "As educators, it is our responsibility to initiate and maintain
trusting relationships with families."
You may reach Bettye via email here- Contact
Members at large assist the President and the board with all aspects of planning, organizing, and carrying out the business of GoAEYC.
Martha Westerberg
Martha worked at the Buffalo Grove Park District for 20 years; teaching for 15 years and directing the Preschool and Early Childhood Enrichment classes. Throughout her career, she has developed many new successful preschool and early childhood classes. She served on the Illinois Parks and Recreation Association's Early Childhood Committee as well as GOAEYC. Martha has served on the GOAEYC Board for over10 years and looks forward to continuing her work with the Board.  She believes our children are our future and that we can change the world one child at a time.
You may reach Martha via email here- Contact
Keysha Hoffman
My name is Keysha Hoffman. I've worked in the Early Childhood Education field for 30 years.  I have been an advocate for parents, children and low-income families to receive quality education since 1998. I've had the opportunity to go to Springfield to work alongside other mothers, and ECE educators to be a voice for young children and their families. Currently I am the director for One Hope United at the Aurora site. I have a master's degree from National Louis University in Early Childhood Administration, I have also 3 years of coursework in Speech Language Pathology. It has always been my passion to work with young children and their families by providing them with the highest quality of care. I believe that parent-teacher partnerships are a valuable benefit for helping children to thrive in and out of the school environment.
Sharyl Robin
Sharyl is currently the Program Director for Children's Home + Aid, where she oversees the Community Partner program for Child Care Resource and Referral. She was previously the Training Coordinator, and has also been a center Director and classroom teacher. She holds a Level 3 Director Credential and chairs the Quality Assurance Committee for the Statewide Professional Development Advisory Committee. Sharyl has a Bachelor's degree in Early Childhood Education and a Master's Degree in Early Childhood Leadership and Advocacy, both from National Louis University.
You may reach Sharyl via email here- Contact
Tracey Neumarke
Tracey has been teaching since 1990 at different schools as a Preschool Teacher, Head Start Teacher, and Preschool for All Teacher. While she enjoys working with a variety of ages, her passion is teaching 3, 4, and 5 year olds in the Preschool for All program. She has a Bachelor of Arts from North Park College (now North Park University) where she majored in Early Childhood Education. Besides working with her students and their families, she loves being able to collaborate with others and feels everyone can learn so much from each other.
She lives in Chicago with her husband and her dog and guinea pig. She loves to read, take walks, do art, volunteer, and spend time with friends and family.
She is so glad to be part of such a fantastic organization as GoAEYC
You can contact Tracey here
Carrie Rafalski, GoAEYC Director of Operations
In March 2017 Carrie agreed to be the part-time Director of Operations for GoAEYC. Carrie has been involved with GoAEYC in various rolls since 1994 when she was part of a core group of dedicated people who formed GoAEYC. She was President and Vice President of GoAEYC and Secretary of IL AEYC. She has presented workshops to various audiences at CH+A and at local and national conferences since 1995.  She is excited to be able to serve the members of GoAEYC. 
You may reach Carrie via email here- Contact